Thank you Lorissa's Kitchen for sponsoring this post on Strength Training for Beginners. Lorissa's Kitchen makes delicious snacks using high quality meats like 100% grass-fed beef and chicken raised without antibiotics! Click here to purchase Lorissa's Kitchen on Amazon!
Why didn't I get into strength training sooner?
I mean. I thought I was, holding my cute little 2-pound pink weights during cardio workouts or doing a push up or two during a warm-up.
I always used excuses like "I don't want to bulk up." I didn't want to become 'bulky,' I wanted to be lean and trim. It was the same excuses I had for not eating too much protein post-workout. (Insert Face Palm Emoji.) So silly, I know.
But that was several years ago, and I've learned a lot since then. Both from friends of mine who lift like a boss and from educating myself.
Strength training has helped me feel stronger, more capable, and better than cardio alone ever could.
Now I have a very balanced exercise routine, that incorporates yoga, cardio, and lots of strength training.
But I didn't know where to start.
That's why I decided to write this post on the best strength training for beginners tips. These six simple tips are what I used to begin my journey into strength training.
Strength Training for Beginners
Strength training doesn't need to be intimidating. Follow these simple steps and tips to get started. Plus, scroll down for the benefits of strength training, a fun infographic, and a promo code for my favorite post-workout snack!
1. Don't Be Scared
The most important first step to starting strength training is to not be scared of it. You're not going to gain weight or get bulky (unless you want to!). You're not going to injure yourself if you practice form and educate yourself. Which leads us to number 2.
2. Do Your Research
If strength training is a whole new thing for you, make sure you do plenty of research. Watch YouTube or exercise videos from reputable sources religiously to learn proper form. Educate yourself on the best workouts for the targeted areas you wish to improve. Create a simple program for yourself that can be increased with time. I would also highly recommend investing in a personal trainer, if you can. I think having someone to train you and correct form can be incredibly helpful.
There are so many options that make this more affordable, too. Check local gyms and see if they are offering a deal. Many new gym memberships come with a few free personal trainer sessions. I also personally use a very affordable home workout program that can be streamed anywhere and specializes in strength training. I recommend Autumn Calabrese and her programs.
3. Treat Your Body Well
Make sure that you always warm up before a workout and stretch afterwards to prevent injury and aid in muscle recovery.
Working on your health and body does not stop after the workout is done.
Proper diet and rest are very important to reaching your goals. Stay hydrated and refuel with protein and smart carbs.
This is important for refueling your glycogen stores as well as building and repairing your muscles.
But keep things simple. Focus on a diet of balanced, whole ingredients.
Even if you're on-the-go, do not forget your post-workout. Lorissa's Kitchen is actually one of my favorite post-workout protein snacks. I have talked about them before on the blog in this DIY Protein Snack Box post, and I love their product for protein on-the-go.
They are made from 100% grass-fed meat and chicken raised without antibiotics. They're gluten-free, perfectly portable, and utterly delicious with no preservatives, added growth hormones, added MSG, or added nitrites.
Lorissa's Kitchen helped me to prioritize protein and how crucial it is for recovery. I am extremely busy, I work about 80 hours a week, travel often, and always have a jam-packed agenda. But I know that I need to make time for myself and my health. These convenient snacks really help me get my protein in post-workout when I am crazy busy and running around like a mad woman!
Lorissa's Kitchen offers a variety of unique recipes from Original Beef Steak Strips to Ginger Teriyaki Chicken Cuts. Which one would you choose? I'm also happy to offer a limited time coupon for 20% off Lorissa's Kitchen on Amazon!
Discover what Lorissa's Kitchen is made of and shop the image directly below: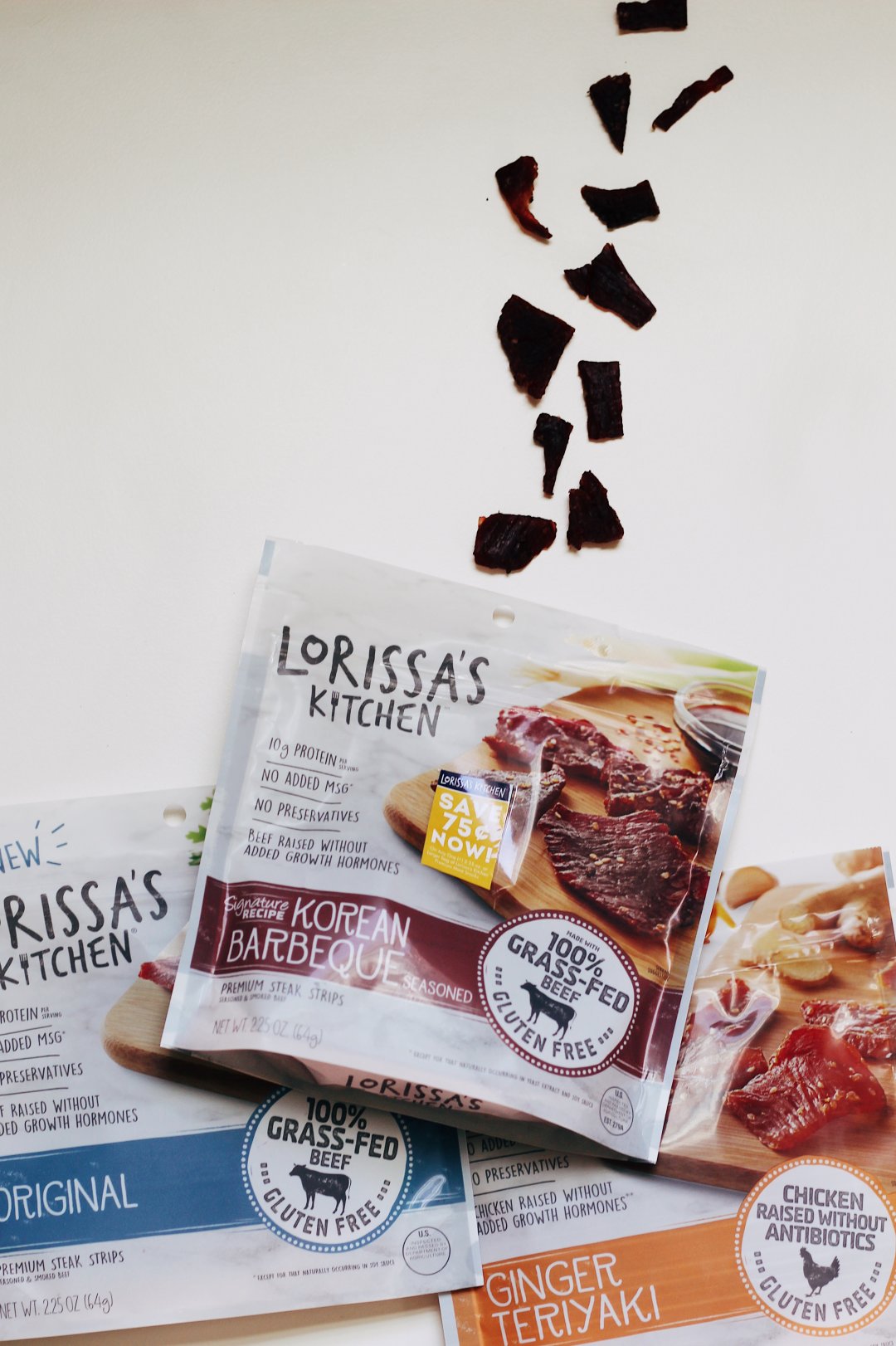 Check out Lorissa's Kitchen on Amazon, and use code 20OFFLK to get 20% off your order!
4. Start Slow
Have a grand goal in mind? That's great, but you have to start slow to get there. A strength training for beginners plan should be simple to start and increase as your endurance and strength does.
If using weights, choose a weight that allows you to do the required number of reps while keeping good form. Invest in a set of different sized weights. You will outgrow light weights faster than you think.
The general rule for strength training is to use a weight that only allows you to complete the required reps before losing your form. Start with 2-5 pound weights and increase as needed. The American Council on Exercise recommends that beginners start with a weight they can lift for about 12-15 reps and 1-2 sets. In the beginning, aim to strength train at least 2-3 days a week.
5. Don't Care What Others Think
This is important. Please do not spend your hard-earned money on a gym membership only to stop going when you feel intimidated. There are going to be plenty of very fit people there who are lifting a lot heavier weights than you. But everyone started somewhere, remember that.
You have just as much of a right to be there as they do. You are paying your fees and trying to better yourself. A gym can be a very good place when it comes to strength training for beginners. There are ample weights, mirrors to check form, classes, and, of course, equipment. But there can also be people who give you dirty looks, make a not-so-kind remark to their friend, or rush you off a machine. It doesn't always happen, but sometimes it does. When it does, you need to learn to shrug your shoulders, brush them off, and keep yourself focused on your own goals.
6. Choose The Right Equipment (If Any)
Strength training doesn't actually need any equipment at all. Decide the equipment you'll need to complete your goals and that you feel most comfortable with.
Your Own Body: Examples of strength training using your own body weight include push-ups, yoga, squats, planks, and lunges.
Weights: Whether it's dumbbells or kettlebells, ensure that you've researched the proper way to use the equipment before beginning. As mentioned previously, it's a good idea to invest in different sets of weights. Different exercises will require lighter or heavier weights, and your endurance will eventually outgrow your lightest weights. Typically, weight set sizes are as follows: Light (3-5 pounds for women; 5-8 pounds for men), Medium (5-10 pounds for women; 10-15 pounds for men), and Heavy (10-20 pounds for women; 15-30 pounds for men).
Machines: If you have access to a gym (or can invest in buying an at-home machine), machines are a great strength training for beginners option. Machines can help you develop correct form and become more comfortable in a gym setting. For beginner workouts on machines, try Leg Press, Seated Cable Rows, or Chest Press.
Resistance Bands: Resistance bands can be excellent for strength training and they are so convenient. I bring bands with me when I travel for strength training on-the-go.
I am so excited for you to start your strength training journey. Hopefully this post has helped you with the tools, tips, recommendations, and even snacks you need to get started!
Soon you will be enjoying all of the proven benefits of strength training, including:
increased energy
increased metabolism and fat burn
better balance and posture
better sleep quality
improved bone health and muscle mass
and so much more!
We hope that you have enjoyed this post on Strength Training for Beginners. Any questions for us? Let us know in the comments below!
I was selected for this opportunity as a member of CLEVER and the content and opinions expressed here are all my own.